Polish Film Series
2013 Austin Polish Society Movie Nights
February| March | April | May | June | July | August | September | October | November | December
———————————————————————————————————————————————————————————————————————————–
Austin Public Library has partnered with Austin Polish Society to present free monthly screenings of Polish films.  Please join us for the the 2013 film series:
———————————————————————————————————————————————————————————————————————————-
WHERE: Austin Public Library at Manchaca Road Branch, 5500 Manchaca Road (map) Tel: 512-974-8700
WHEN: First Sunday of a month (except February and September- see schedule below) at 3:30pm
COST: FREE
All films have English subtitles
APS Contact: Joanna Gutt-Lehr email: joanna.guttlehr@gmail.com
Sunday, February 17, 3:30pm
" Big Animal / Duze zwierze", dir. Jerzy Stuhr, 2000
73 min.
Director: Jerzy Stuhr
Screenplay:Krzysztof Kieślowski
Cinematography: Paweł Edelman
Music: Abel Korzeniowski,
Cast: Jerzy Stuhr, Anna Dymna, and more.
Mr. Sawicki, a respectable bank clerk, appears in the streets of his town in the company of a camel. The residents are astonished. Their initial friendliness and surprise turns into widespread hostility. Local government offices demand that the camel be registered and tax paid for it, officials receive letters claiming the animal is soiling the streets and distracting the children at school and, most importantly, could be the carrier of a tropical disease. Picket lines appear in front of the Sawickis' house, demanding that the exotic resident be removed.
Written in 1973, the script was meant as the feature debut of Krzysztof Kieślowski, but due to protests from the authorities of the time, it was never produced. Janusz Morgenstern discovered it in Wiesbaden in 1998 and, as a producer, proposed that Jerzy Stuhr direct it.
" Duże zwierzę" is a special film to me. Firstly because, in a symbolic way, I was working with my good friend Krzysztof Kieślowski again. I had the opportunity to give shape to something that was his idea, his aspiration. Secondly, this is my first poetic film. I have always been inclined towards a realistic view of the world. This time I dared to try metaphor, I tried to find a different sensitivity in myself". (Jerzy Stuhr)
This story carries a message that is important to me personally. It is a very painful issue in our lives: tolerance. For years, I was dreaming about making a film about this subject. […] I believe that Krzysztof's screenplay has a potential of facing this problem. I think that a form of a whimsical poetic metaphor will allow for a dialogue with the viewer. Without a dialogue my work would loose any meaning. […](Jerzy Stuhr)
Back to Top
Sunday, March 3, 3:30pm
"Kingsize", dir. Juliusz Machulski, 1988

Comedy, 105 min.
Screenplay: Juliusz Machulski, Jolanta Hartwig-Sosnowska
Music: Krzesimir Dębski
Cinematography: Jerzy Łukaszewicz
Cast: Jacek Chmielnik, Jerzy Stuhr, Katarzyna Figura, etc
In this fantasy comedy we follow a young scientist living in Poland of the 80s, who actually came from the world of dwarves, thanks to a magic potion, held by the Big Eater, ruler of the dwarves. The dwarf kingdom, Shuflandia, exists in a cellar of a Quaternary Research Institute, and only the most obedient dwarves get the chance to grow to king size and inhabit the larger world. "Kingsajz" is a name of a world of human sized men in opposition to the Shuflandia where everything is miniature and mediocre. For Shuflandia's dwarfs Kingsajz world is like an unreachable dream of free, colorful, happy, rich and fun country of king size dimension. Once there, nobody wants to return to Shuflandia's authoritarian regime. (From: http://dcfilminstitute.org/polishfilmnight2012/)
Kingsajz is considered to be one of the best Polish comedies and also one of the socially significant pictures of the '80s. Graffiti with slogans from the film appeared on the walls of the buildings in Polish cities, much to police's irritation. The movie is a strong and evident allegory of the communist regime imposed in Poland (People's Republic of Poland 1945-1989).
Back to Top
Sunday, April 7, 3:30pm
"The Rite of Passage 1947″ / "Mała matura 1947″ , dir. Janusz Majewski, 2010

1 hr 48 min.
Screenplay and direction: Janusz Majewski
Cinematography: Adam Bajerski
Music: Tomasz Stańko
Cast: Adam Wróblewski, Antoni Królikowski, Marek Kondrat, Wojciech Pszoniak, Wiktor Zborowski, Agnieszka Michalska , Artur Żmijewski, Sonia Bohosiewicz, Olgierd Łukaszewicz, Marian Opania, and more.
(From: culture.pl )
"Rite of Passage 1947″ is an engaging, period film. Janusz Majewski's direction allows for a fair bit of nostalgia, both with regards to the joys of youth as well as with his general film style. Majewski's films are a rare breed: scholarly and knowledgeable, his is also a cinema of forgotten elegance – recalling a world which is no more. With a host of acting talent, clear direction and narration, it's easy to recognise the film as the product of one of the great masters of polish cinema. This explains the presence of the film's many stars, with big names taking up even minor roles. [...]
The story treads a fine line between the autobiographical and the universal. It follows the tribulations of a family from Lviv through the perspective of an adolescent boy. Divided into three parts, the first part deals with the boy's pre-war childhood; the second part delves into an exploration of the country during wartime, whilst the third and final segment describes the family's relocating to Kraków and their first post-war years in the city. It is the third part that forms the on-screen narrative.[...]
Seventeen-year-old Ludwik Taschke travels from Lwow to Kraków in the spring of 1945, along with his parents and his sister. The boy is fascinated with his new city, previously known to him only through postage stamps. He is accepted to a reputable school, where the teachers don't talk about the changes currently underway in the country. Their task is simply to prepare the boys for a moral life – independent of politics. For the time being, Ludwik is simply concerned with being a teenager, trying to single himself out amongst his contemporaries, and suffering the first raptures of love. Politics soon creep into his life, entirely unwelcome.
Trailer (in Polish)
Back to Top
Sunday, May 5, 3:30 pm
"Erratum" , dir. Marek Lechki, 2010

1 hr 30 min.
Screenplay and direction: Marek Lechki
Cinematography: Przemysław Kamiński
Original music Bartek Straburzyński
Cast: Tomasz Kot, Ryszard Kotys, Tomasz Radawiec, Janusz Michałowski, Karina Kunkiewicz
A few days before his son's First Communion, Michał (Tomasz Kot) returns to his hometown to run an errand for his boss. He is to pick up an imported car from customs and return home as soon as possible. But then things take on a different turn. Michał has to stay in town for a few days. He has to wait. As he walks through the city streets, he encounters people he used to be close with; he visits familiar places. Something awakens inside him; something he had long forgotten about. He tries to fight for it.
Trailer (in Polish)
Back to Top
Sunday, June 2, 3:30 pm
"A wonderful Summer" / "Cudowne lato", 2010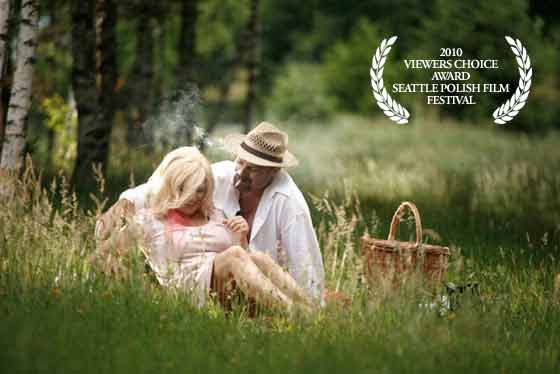 1 hr 25 min.
Director: Ryszard Brylski
Screenplay:  Agata Nowak,  Wojciech Lepianka,  Ryszard Brylski
Cinematography:  Arkadiusz Tomiak
Original music:  Mikołaj Stroinski
Cast: Helena Sujecka, Cezary Łukaszewicz, Antoni Pawlicki, Marek Kasprzyk, Katarzyna Figura, Bronisław Wrocławski, Jerzy Trela, and more.
A Wonderful Summer, a light-hearted comedy, tells the story of Kitka, the stonemason's daughter, and a girl with extraordinary abilities to communicate with the dead. After graduating high school, Kitka faces key life choices. Her grandfather, father, and the ghost of her deceased mother, all try to guide her. Though, because of various familial traumas, they desperately need help themselves. Living in her beloved mother's shadow, Kitka takes matters into her own hands. This leads her on an adventure-filled journey with uncanny friendships and loves. Full of absurd and ironic situations, this Hartley-Merrill best script award-winning tale ends wonderfully, in the most magical meaning of the word. The film is a screen debut for Helena Sujecka as Kitka. The cast includes young, talented actors: Cezary Lukaszewicz, and Antoni Pawlicki. Katarzyna Figura excelled playing roles of two characters. (From: http://www.pffamerica.com/2010press3_en.htm)
Trailer (in Polish)
Back to Top
Sunday, July 7, 3:30 pm
"Święty Interes / Holy Business", 2010, English subtitles
1 hr 26 min.
Director: Maciej Wojtyszko
Screenplay: Aneta Wróbel-Wojtyszko, Adam Wojtyszko
Cinematography:  Grzegorz Kędzierski
Music:  Zygmunt Konieczny
Cast: Adam Woronowicz, Piotr Adamczyk, Patricia Kazadi, Matylda Baczyńska, Dorota Landowska, Anna Opatowska, Maria Winiarska, Tomasz Międzik, Arkadiusz Smoleński, Wojciech Skibiński, Krzysztof Jędrysik, Mariusz Bonaszewski, and more.
Director Maciej Wojtyszko brought together two "Saints" of Polish cinema to star in his comedy Święty Interes / Holy Business. Actors Adam Woronowicz (star of Popiełuszko. Freedom is Within Us, dir. Rafał Wieczyński) and Piotr Adamczyk (Karol: The Man who Became Pope, dir. Giacomo Batiatto) have taken a departure from serious roles to entertain audiences in a lighter genre.
Holy Business is the story of two brothers who come back to their native village for their father's funeral. Their legacy consists of a barn in ruins and an old, sputtering car. The automobile's history is the subject of much speculation, as rumour has it that it once belonged Bishop Karol Wojtyła (the future John Paul II). Some even believe in the car's divine healing properties, and the heirs get offers for the vehicle. Thus, the brothers hope that the coveted car's sale will sort out their financial issues, as Leszek wants to quit his cleaner job in Switzerland while Janek wants to clear his huge gambling debts. The sunny Polish countryside is reminiscent of a local Provence, yet director Maciej Wojtyszko chose to portray it in a more intimate manner, combining comedy flavour with the subtle capture of Polish typical idiosyncrasies, though his characters are always portrayed with sympathy. Residents of the village, while friendly and helpful, keep the truth about the car a secret.
Source: press info.
Sunday, August 4, 3:30 pm
"Bilans kwartalny / The Quarterly Balance", 1974, English subtitles
1 hr 31 min.
Director: Krzysztof Zanussi
Screenplay: Krzysztof Zanussi
Cinematography:  Slawomir Idziak
Music:  Wojciech Kilar
Cast: Maja Komorowska, Piotr Fronczewski, Marek Piwowski, Zofia Mrozowska, Halina Mikolajska, and more.
Marta is a do-gooder. She sees a boy crying while she is in a rush to go to work and she stops to help him with the problem he is having with his teacher. This is the same teacher her son has. So she ends up meddling, telling the teacher what to do, which causes the teacher to take it out on her son and fail him. Marta works as an accountant in an office and is also the union representative where she gets a chance to help her friend and confidante out, who is accused of stealing. Marta still insists on helping her friend even though her friend talks to her boss about her behind her back, which the boss tells her about. All she can say, is that she needs my help because she is weak. By chance Marta gets a lift to work by a former acquaintance, someone she hardly remembers, a handsome trainer, Jacek (Marek Piwowski). An attraction develops between the middle-aged Marta and the athletic and free spirited Jacek, who tempts her with his worldliness. But she can't decide whether to leave her husband Jan (Halina) or to stay and try to make the marriage work for the stability of the family, even if the marriage has lost a lot of its romance. What makes her decision difficult is that she can't cheat on her husband without feeling guilty, so she says that her choice will have to be to leave him or stay with him as a faithful married wife. What also makes her decision difficult is that Jan is such a decent guy who does nothing wrong, he does not even try to tell her what to do when he realizes what is going on. Marta slowly gets to know herself better and begins to see what other people think of her: she learns that others think of her disdainfully, as a do-gooder who causes more harm than good. By putting herself through an emotional ringer Marta does find out about what she is really made of and what her marriage means to her, and she is strengthened by the experience in a way that she has never felt before. (Reviewed by Dennis Schwartz.)
Awards: 1975 – OCIC Award at the IFF in West Berlin, 1976 – "Golden Camera" for best contemporary film (granted by the magazine "Film").
Sunday, September 15, 3:30 pm
"Kret" / The Mole", 2011, English subtitles
1 hr  48 min.
Director: Rafael Lewandowski
Screenplay: Iwo Kardel Rafael Lewandowski
Cinematography:  Piotr Rosolowski
Music:  Jérôme Rebotier
Cast: Borys Szyc, Marian Dziędziel, Magdalena Czerwińska, Wojciech Pszoniak, and more.
Paweł, a Polish man in his early 30s, makes a living with his father Zygmunt importing second-hand clothing from the North of France to Southern Poland. On his way back from one of regular "business trips", Paweł is shocked to discover his father's picture on the cover of a Polish tabloid newspaper.
The headline "traitor" is written next to his name. Zygmunt is a genuine hero of the struggle against totalitarianism and a recognized member of the "Solidarność" labor movement of the 80s. But now, Zygmunt is suddenly accused by the paper of having acted as a secret informer called the mole by the communist regime. In today's Poland, 20 years after the transition to democracy, the past continues to haunt the present, and Paweł's father's story causes a stir. It makes headlines along with an ongoing trial about the crackdown of the miner's strikes of December 1981, where Zygmunt was a leader. Journalists are quick to point out that Paweł's wife, Ewa, is the daughter of one of the miners who was killed during the crackdown. Although he is shaken by the news, Paweł is certain that his father's enemies invented the story. But Zygmunt's bizarre reactions lead Paweł to doubt his innocence, the former resistance leader is in such a panic that he is unable to stand up and publicly deny the accusations. And even worse, out of paranoia, Zygmunt decides to go hide with his cousin Tadeusz, who has settled in the Polish community in the North of France, to wait for "things to settle down." Paweł's world is suddenly turned upside down. Normally uninterested in politics, he fi nds himself at the heart of one of the country's most controversial political debates. Zygmunt's disappearance is interpreted as an admission of guilt by many, who begin to consider Paweł as the "son of a collaborator". And his relationship with Ewa inevitably suffers.
A quote from the Director's Note:
I was 11 years old when Martial Law was declared in Warsaw on December 13, 1981. My father, a Polish artist who had emigrated to France in 1966, immediately joined the Solidarność movement in opposition to the communist regime. For the next several years, we were forbidden to set foot in Poland and denied all contact with our family there. These events forged the Polish side of my dual cultural identity. At the end of my studies in France, I decided to move to Warsaw. Fascinated by recent Polish history, I have dedicated my work as a filmmaker to capturing the changes taking place in the country. My goal is to show how this sudden and unprecedented change is constantly disrupted by the resurgence of history, whether in the visible world or in people's heads.
Sunday, October 6, 3:30 pm – POSTPONED: we are hosting a concert this day at 3pm instead at 901 Trinity St.
Pora umierac" / The Time To Die", 2007, English subtitles
1 hr  40 min.
Director: Dorota Kedzierzawska
Screenplay: Dorota Kedzierzawska
Cinematography:  Arthur Reinhart
Music:  Wlodzimierz Pawlik
Cast: Danuta Szaflarska, Krzysztof Globisz, Marta Waldera, Patrycja Szwczyk, and more
Polish director Dorota Kedzierzawska, widely acclaimed for her features about the magic of childhood, helms the quiet, gently-stated character study Time to Die – an impressionistic, black-and-white portrait of the day-to-day of a nonagenarian woman as she experiences the final act of her life. Danuta Szaflarska stars as Aniela, who lives in a massive yet rapidly-deteriorating wooden house, filled with souvenirs and treasures of eras gone by. Aniela runs into conflict in her dealings with others, particularly a nasty neighbor who sees her property as an eyesore and wants to do everything in his reach to buy it up and tear it down, and her married adult son, who – though kindly – triggers paranoia within Aniela (she cannot help but believe that he is scheming and planning to wheedle the property away from her). Driven aback by these individuals, Aniela finds one of her only sources of comfort and reassurance in her daily talks with her dog, Fila – and develops a great affinity for spying on the neighbors' doings whenever boredom creeps in. (Review by Nathan Southern, Rovi)
Excerpts from the Director's Note (in Polish for now – will be translated soon)
"Pora umierać" jest właściwie monodramem, zainspirowanym przez niezwykłą postać Danuty Szaflarskiej, dla niej specjalnie napisanym. Danuta Szaflarska to nie tylko wybitna aktorka, ale i fascynująca osobowość. Do napisania scenariusza dedykowanego Danusi przymierzałam się od dawna, bo prawie od 15 lat, odkąd spotkałyśmy się po raz pierwszy na planie "Diabłów…". To było jak "miłość od pierwszego wejrzenia", jak spotkanie z osobą z innego świata, z innej planety. Zresztą nie znam osoby, której by Danusia nie zauroczyła.
Pies w scenariuszu pojawić się musiał, bo bardzo nie lubię monologów wewnętrznych, a tym razem bohaterka (sama się temu dziwię) chciała dużo mówić i nic nie mogłam na to poradzić. I tak Aniela rozmawia z psem, swoim jedynym domownikiem, przyjacielem i obrońcą. Poprzez te rozmowy buduje się obraz postrzegania i przeżywania rzeczywistości przez starszą panią, która z ironicznym uśmiechem patrzy na rzeczywistość i tym uśmiechem właśnie rozprawia się ze swoją samotnością.
Mądrość Anieli i to, czego jej zazdrościmy (a czego ja prywatnie zazdroszczę Danucie Szaflarskiej) to dystans do świata i siebie i oraz niecodzienne poczucie humoru, który daje jej siłę w najmniej oczekiwanych i nie najłatwiejszych sytuacjach.
Tytuł pojawił się od razu, kiedy jeszcze wszystko istniało w formie nie zapisanej. Marzę o tym, by nie dali się Państwo zwieść temu tytułowi. Bo to jest oczywiście film o życiu – zmaganiu się z nim, ale też pasji i radości życia, która jest w zasięgu ręki każdego z nas, ale tylko niektórzy o tym wiedzą…
Wiedzieliśmy od samego początku, że film musi być czarno-biały. I bardzo oszczędny w sposobie opowiadania tak, by nic nie zakłócało prostoty codziennych rytuałów naszej bohaterki. Mieliśmy za zadanie dyskretnie ją obserwować, niczego obrazem nie ubarwiając. Oglądając stare zdjęcia rodzinne, stare czarno-białe fotografie – odruchowo przystajemy, zwalniamy, przyglądamy się twarzom, postaciom, plenerom, nieco uważniej niż zwykle. Coś wyjątkowego z tych zdjęć zawsze bije – jakaś siła, nostalgia, nieokreślona magia. Chociaż niby są zwyczajne, niby… Do takich właśnie chwil zatrzymania chcieliśmy zbliżyć widza, a czerń i biel miała nam w tym pomóc.
Sunday, November 3, 3:30 pm
Sunday, December 1, 3:30 pm
2012 Movie Nights:
January
The Debt / Dług
1999 – psychological drama, thriller, 107 min.
Director: Krzysztof Krauze
Screenplay: Krzysztof Krauze, Jerzy Morawski
Cinematography: Bartosz Prokopowicz
Music: Michał Urbaniak
Cast: Robert Gonera, Jacek Borcuch, Andrzej Chyra
A story about fear, hope, and despair – drama based on real events and real people, created 5 years after the actual events took place. It tells a story about two friends and a man who changed their lives into a nightmare… "The Debt" is one of the best Polish thrillers. It garnered numerous awards in many categories, including best picture, best director, best screenplay, best male roles, best music, and more.
Austin Polish Society presented two films of director Krzysztof Krauze: "My Nikifor" and "The Saviour's Square". Actor Andrzej Chyra who received many awards for his performance in "The Debt" was a guest at the 6th Austin Polish Film Festival in November 2011, and another actor starring in the film, Jacek Borcuch, directed "All That I Love" screened at the 6th APFF.
Review: http://www.kinokultura.com/specials/2/dlug.shtml
————————————————————————————————-
Febuary
Pornography / Pornografia
2003 – drama, 117 min
Director: Jan Jakub Kolski
Screenplay: Jan Jakub Kolski with assistance from Krzysztof Majchrzak
Cinematography: Krzysztof Ptak
Music: Zygmunt Konieczny
Cast: Krzysztof Majchrzak, Adam Ferency, Grazyna Blonska-Kolska
Set in 1943 in occupied Poland; two older men visiting a country estate become obsessed with the lives of their host's daughter and the son of the local bailiff. As they try to ignite a love affair between the two young people their personalities become submerged and they eventually become the victims of their own manipulations."Pornografia" (Pornography), based on a novel by Witold Gombrowicz, [is] set on a country estate in 1943, during the German occupation. A writer brings to his friend Hipolit's country place the mysterious, multitalented Fryderyk, whom he has recently met in Warsaw. Hipolit has a beautiful teenage daughter, Henia, who is to be married to an older, neighboring landowner. Fryderyk disapproves of the match, believing that Henia is really destined for her childhood friend, Karol, a young boy no less handsome than she is pretty, and sets about trying to engineer this by devious means. Fryderyk's motives are obscure and his behavior unpredictable, and it gradually becomes clear that he is harboring dark secrets about his past. This is masterful filmmaking, from the uniformly excellent acting, to the subtle manner in which the story is handled and the ravishing cinematography. Only the title is baffling, since the film will disappoint anybody in search of titillation, and risk putting off the kind of audience it merits. By Roderick Conway Morris, Sept 3, 2003
From the director (in Polish only): http://www.stopklatka.pl/film/film.asp?fi=8481&sekcja=1
—————————————————————————————-
March, 13, 7pm

The Debt Collector / Komornik
2005 – psychological drama, 93 min
Director: Feliks Falk
Screenplay: Grzegorz Łoszewski
Cinematography: Bartosz Prokopowicz
Music: Bartłomiej Gliniak
Cast: Andrzej Chyra, Małgorzata Kożuchowska, Kinga Preis, Grzegorz Wojdon, Jan Frycz, Sławomir Orzechowski, Marian Dziędziel, Marian Opania
Lucek (Andrzej Chyra) is a shrewd but soulless debt collector who callously repossesses any item his job may require without a glimmer of sympathy. One day, a sudden inner awakening transforms the cruel government worker into a caring man who's filled with remorse.
Feliks Falk, director: "One of the reasons why I reached for 'The Collector' is the fact that the ups and downs of the protagonist depict a certain social situation which arouses my concern (…). Wherever we look around we see how people wronged as a result of calls for moral purity, shouting slogans and the accompanying propaganda. I wanted 'The Collector' to reflect the climate and atmosphere of the moment we are living in."
Q&A with Feliks Falk http://www.youtube.com/watch?v=7db-3oe5PYA
—————————————————————————————-
April 10, 7pm

Money Is Not Everything

2001 – comedy, 102 min
Director: Juliusz Machulski
Screenplay:Jaroslaw Sokol
Cinematography: Grzegorz Kuczeriszka
Music: Krzesimir Debski, Golec Orkiestra
Cast: Marek Kondrat, Stanislawa Celinska, Sylwester Maciejewski
Tomasz Adamczyk, a 50 year old businessman in a company that produces cheap wine, wants to quit his job and devote himself to his life's passion – philosophy. His business partner does not like the idea. Tomasz, disgusted with the world ruled by money, ends up in a deep countryside among people with no jobs and no money – consumers of the cheap wine his company produces.
Interview with the director (in Polish only) http://www.stopklatka.pl/wywiady/wywiad.asp?wi=1671
—————————————————————————————-
May 8, 7pm

The Bench / Laweczka, dir. Maciej Zak
2004 – romance and drama, 86 min.
Director: Maciej Zak
Screenplay: Robert Maka, Maciej Zak, Marcin Korneluk
Cinematography: Grzegorz Kuczeriszka
Music: Piotr Mikolajczak
Cast: Jolanta Fraszynska, Artur Zmijewski, Artur Pontek, Sylwester Maciejewski
Based on the play by Aleksander Gelman, the movie shows the inner fights between the need for love and the worry about the responsibilities it brings, between the need for closeness and the lack of understanding, the fight between the want to settle and the of being loved and adored.
Interview with the director (in Polish only): http://www.stopklatka.pl/wywiady/wywiad.asp?wi=21532
—————————————————————————————-
June 12, 7pm

Warsaw / Warszawa
2003 – drama, 104 min
Director: Dariusz Gajewski
Screenplay: Dariusz Gajewski, Mateusz Bednarkiewicz
Cinematography: Wojciech Szepel
Music: The Kormorany
Cast: Agnieszka Grochowska, Łukasz Garlicki, Dominika Ostałowska, Lech Mackiewicz, Sławomir Orzechowski, Andrzej Szenajch
Everything that is important in this film takes place in micro situations (…). What is beautiful in Gajewski's film is his attempt to build a bridge between great issues of the past and seemingly small problems faced by young people of today for whom the key-word is 'disorientation'. Next to former places of execution, things are happening which are not at all small but are just seen in a different scale. Small is important. Both here and there what is at stake is someone's life, freedom, hope, love. By Tadeusz Sobolewski , Gazeta Wyborcza Nov 15-16, 2003
—————————————————————————————-
July 10, 7pm

Boys Don't Cry / Chlopaki nie placza
2000 – comedy, thriller, 100 min
Director: Olaf Lubaszenko
—————————————————————————————-
August 20, 7pm – PLEASE NOTE A CHANGE of time and place

Austin Public Library, Windsor Park Branch 5833 Westminster Dr, (512)974-9840
Vinci
2004, comedy, thriller, 108 minr
Director: Juliusz Machulski
Screenplay: Juliusz Machulski
Cinematography: Edward Klosinski
Cast: Borys Szyc, Robert Więckiewicz, Jan Machulski, Marcin Dorocinski, etc
After several years of serving his sentence, Cuma – a notorious art thief is released from prison due to his poor health. It was all arranged by dealer Gruby who plans a heist of the famous 'Lady with an Ermine' by Leonardo da Vinci [the most prestigious painting in the Polish collections, from the Czartoryski Museum in Cracow.. Cuma is contracted to steal the painting. He invites his former partner Julian to join the team, not knowing that his best friend is now a policeman and will do anything to prevent the heist. Julian seeks cooperation with an old forger Hagen and a beautiful young art student Magda. Written by BrunaCarli
----------------------------------------------------------------------------------------
September 13, 7:30pm THURSDAY
Austin Java, 1206 Parkway @ 12th & Lamar (512) 476-1829
And a Warm Heart
2008 comedy thriller, 96 min, English subtitles.
Director:  Krzysztof Zanussi
Screenplay: Krzysztof Zanussi
Cinematography: Adam Bajerski
Music: Wojciech Kilar
Cast:
Bohdan Stupka
Szymon Bobrowski
Marek Kudełko
Krzysztof Kowalewski
Borys Szyc
Maciej Zakościelny
Stanisława Celińska
Marta Żmuda Trzebiatowska
Tomasz Sapryk
Nina Andrycz
Agnieszka Dygant
Wojciech Mann
Dorota "Doda" Rabczewska
At the suggestion of the Austin Ukrainian community, the September Polish Movie Night will honor one of the greatest Ukrainian actors, Bogdan Stupka, who passed away in July this year at the age of 71. In memory of this acclaimed and accomplished artist, Austin Polish Society chose the film "And a Warm Heart" by Krzysztof Zanussi, an official selection of the 2008 Rome Film Festival when Stupka won the best actor award for his lead role as Konstanty.
"Zanussi laughs! One could paraphrase the slogan launched for Garbo in Ninotchka to sum up the new film by Polish director Krzysztof Zanussi, With a Warm Heart, which screened in competition today at the Rome Film Festival. A filmmaker with a penchant for drama, an explorer of existential dilemmas and anxieties, the director of The Year of the Quiet Sun (Golden Lion winner at Venice 1984) has at the age of 70 made perhaps his "lightest" film.
Oligarch Konstanty (Ukrainian actor Bodhan Stupka), whose body is falling apart from a lifetime of intemperance, urgently needs a heart transplant. What better donor than Stefan (newcomer Marek Kudelko), a healthy young man intent on killing himself? Why not give him a hand in achieving his goal?
"After many serious films I needed to say something important in an lighter manner," said Zanussi (who also wrote the film), "so I decided to relate contemporary nihilism with this dark comedy." The tone is often that of a fairy tale: "The moral is that a new heart can save not only a body but also a soul," he added.
Released domestically in September, the film sparked some controversy over a cameo by pop star Dorota Rabczewska, chosen by the director as an "icon of perfect vulgarity. But in the end she sings Bellini's 'Casta Diva' because I wanted to show how everyone can change. It's a shame that my picking her caused many of the actors to withdraw [from the film], thus revealing the hypocrisies and bigotry of my country."
By Gabriele Barcaro on cineuropa.org on Rome Film Festival
—————————————————————————————-
October (Postponed.)
Europa, Europa
drama
dir. Agnieszka Holland
Postponed.
—————————————————————————————-
November (Postponed.)
Top Dog / Wodzirej
dir. Feliks Falk
—————————————————————————————-
December 12, 7:30pm, WEDNESDAY
Windsor Branch of Austin Public Library, Tel: 512-974-9840
5833 Westminster Drive, Austin, TX 78723
The Structure of Crystal / Struktura krysztalu
1969 – 74 min, black and white film

Director: Krzysztof Zanussi
Screenplay: Krzysztof Zanussi
Music: Wojciech Kilar
Cinematography: Stefan Matyjaszkiewicz
Young couple, Jan and Anna, live in a countryside. Jan, a talented physicist, works as a meteorologist. Anna is a teacher in a local school. They value peace and quiet and live modestly isolated from the busy world around them. One day, Jan's friend from college, Marek, pays them a visit. Equally talented, Jan and Marek chose completely different lifestyles. Marek, has recently returned from a prestigious internship abroad, and is at the start of a brilliant scientific career. Jan chose the solitude in a countryside. It turns out that Marek's visit has an agenda. His professor asked him to convince Jan to come back to the university and get involved in research. Old friends' opposite choices, outlooks at life, and understandings of their roles in the world collide under the lid of everyday events and goofing around in the snow. Marek's attitude, extremely rational, practical, dynamic, geared toward effectiveness and professional success is juxtaposed against Jan's approach, perhaps equally rational, but a one that prioritizes independence and living a life in accordance with one's inner rhythm and values, away from competing and calculated ambitions, away from the pressure of being evaluated.
In the period extremely bitter and difficult for the intelligentsia of the time, it is especially this part of the audience whom Zanussi addresses in his film. He engages them in a dialogue about two different attitudes toward life, society, and work. Zanussi does not suggest which choice is good and which is bad. It is not possible to make this distinction; the world is much more complicated.
Alternative Films

Shivers / Dreszcze, dir. Wojciech Marczewski, 1981, psychological and political drama, 101 min. http://www.filmweb.pl/film/Dreszcze-1981-5199
There was Jazz / Byl Jazz, dir. Feliks Falk http://www.filmweb.pl/film/By%C5%82+jazz-1981-4398
—————————————————————————————-
Past Seasons: Movie Nights 2011
January
Moj Nikifof /My Nikifor. Krzysztof Krauze, 2004, 97 min.
The setting is the mountain resort of Krynica, the year is 1960. From his birth in 1895 through his death in 1968, the gifted Polish naïve artist Nikifor Krynicki (AKA Epifan Drowniak) lived his life and eked out a career cloaked in obscurity – a casualty of both his extreme speech impediment (his tongue was attached to the roof of his mouth, which prompted others to errantly tag him as mentally incapacitated) and his self-effacing decision to sell the majority of his work for meager amounts. Krzysztof Krauze's biopic My Nikifor travels to the tail end of Krynicki's life journey, dramatizing the period that surrounded his interaction with the well-established artist Marian Wlosinski. The film witnesses Nikifor moving into Marian's workspace in the winter of 1960, and roundly dazzling Wlosinski with talent that obviously outstripped his own – despite the fact that Nikifor, unlike Marian, never received formalized training in the arts. This prompts not only mutual professional respect between the two painters, but encourages the gestation of a friendship between the two men. In time, however, a dark cloud soon extends itself over the Wlosinski household when it becomes apparent that Nikifor has contracted tuberculosis – making him contagious to nearly everyone and putting Marian's entire family in danger. Moreover, Marian's marriage begins to show signs of strain when his wife, Hania loudly complains that he need to spend less time with his new friend Nikifor and more time with their daughters. – Nathan Southern, Rovi http://www.moviefone.com/movie/moj-nikifor-my-nikifor/24118/synopsis
February
The Wedding/Wesele. Wojtek Smarzowski, 2004, 109 min
Wojnar is a wealthy man who is marrying off his beautiful daughter Kasia, in a small town in present day Poland. Wojnar had to bribe the groom with a fancy car, since Kasia was pregnant by another man. At the end of the ceremony, the car is delivered by a gangster, who immediately demands the promised money and the deed to land from Kasia's grandfather. Unfortunately grandpa is unwilling to let go of the land. Meanwhile each of the workers at the reception demand to be paid, so Wojnar, who is very reluctant to part with his money, tries to haggle and bribe his way out of all the situations.
March
The Conductor/Dyrygent. Andrzej Wajda, 1980, 102 min.
Shooting in the U.S. for the first time, Wajda tells the story of John/Jan Lasocki (John Gielgud), an internationally famous orchestra conductor who emigrated from his native Poland 50 years ago. Marta (Krystyna Janda), the daughter of his first love, seeks him out, creating an interest Lasocki has not known in years. He even agrees to return to Poland and conduct the provincial orchestra in which Marta was a featured soloist. That's hardly welcome news to Adam (Andrzej Seweryn), Marta's husband and the orchestra's regular conductor, who's rumored to have gotten his position thanks to party connections. A meditation on the grey area between art and life.
April
The Third /Trzeci. Jan Hryniak, 2005, 95 min.
Pawel, an ambitious young professional, is a workaholic who is neglecting his beautiful wife, Ewa. They hope that a long-awaited vacation aboard a yacht will restore their passion, but that plan is shattered when Pawel decides to return to work, choosing a multi-million dollar contract over his marriage. On the return trip, they meet an older man who wants to help the young couple, but his unorthodox methods go too far. Full of sudden, nasty turns, THE THIRD is not only a taut, tense drama about contemporary modern relationships but also an allegory about modern-day Poland, a former Eastern bloc country with a checkered history of uncertainties and contradictions.
May
Tricks /Sztuczki. Andrzej Jakimowski, 2007, 95 min.
Six year old Stefek challenges fate. He believes that the chain of events he sets in motion will help him get closer to the father who abandoned his mother. His sister Elka, 17, helps him learn how to "bribe" fate with small sacrifices. Tricks and coincidences eventually bring the father to the mother´s doorstep but things go wrong. Desperate, Stefek tries his luck with the riskiest of tricks.
June
Guys Don't Cry /Chlopaki Nie Placza. Olaf Lubaszenko, 2000, 92 min.
"Boys Don't Cry" (Chlopaki Nie Placza) is essentially a comedy about gangsters. These gangsters range from real tough guys, to imitations or posers, who don't stand a chance to make it in the real world. A violinist (Maciej Stuhr) and his friends accidentally complicate the lives of these local gangsters, and then must figure out how to regain their normal lives.
July
Mall Girls/Galerianki. Katarzyna Roslaniec, 2009, 82 min
"Galerianki" is a story of a group of schoolgirls from one of Warsaw's middle schools. There is Alicja, who has changed schools mid-year and struggles in a new environment. Although she is covertly admired for her educational achievement, her poor material status turns her into an object of mockery.  Milena, the class leader, suggests that she and Alicja go together to a nearby shopping mall. There Alicja learns that the elegant clothes and luxurious gadgets that Milena's group flaunts to schoolmates are paid for by "sponsors" found in the mall – in return for sex.  Alicja suspects that her modestly earning father and bored, non-working mother will not buy her a new mobile phone. However, to join the group of 'galerianki' ['galeria' being the Polish word for 'mall'], she has to deal with a few obstacles: she needs to overcome the fear of an unwanted pregnancy and lose virginity.  A sober film based on true-life conversations between the director and the mall girls she documents.  When released, the film provoked an ongoing national debate about moral decadence in this conservative, predominantly Catholic country, 20 years after the fall of Communism.
August
The Lovers of the Year of the Tiger/Kochankowie Roku Tygrysa. Jacek Bromski, 2005, 103 min.
The Lovers of the Year of the Tiger is a historical drama set in 1913. Although the title gives away the fact that this is a romance, it is a subtle one. We get a hint of the outcome of the romance in the first few minutes of the film when, in the present day, an old man goes to the Polish embassy in China. He wants to visit Poland before he dies and asks them to read the story of why he is interested in going there.
The old man's story takes us back to 1913 in Siberia. At this time Poland isn't on the map because its neighbors have divided her lands amongst themselves for over a hundred years. And for just about as long, the Russians have been sending anyone they find troublesome to Siberia. Two Poles flee from the Russians who are chasing them and one of them (Michal Zebrowski) just barely crosses the river into Manchuria. A hunter finds him and brings him to his home to nurse him back to health. The hunter is an honorable man and discourages the romance before it begins by cutting his daughter's hair and having her dress as a boy. Kochankowie Roku Tygrysa is unusual compared to other Polish films in that most of the movie isn't spoken in Polish and most of the actors are not Polish. The lines are spoken in Cantonese, and this adds a level of realism to the film. It is a change of pace for director Jacek Bromski, who often does comedies.
September
Illumination / Illuminacja.  Krzysztof Zanussi, 1972, 82 min.
Illumination opens to dry lecture footage from Professor Wladislaw Tatarkiewicz as he defines illumination as the moment of enlightenment in which the brain sees truth directly, explaining that it is through this state of intensified thought that a person attains wisdom. The film then cuts to a clinical shot of Franciszek (Stanislaw Latallo) as his vital statistics are measured and his cognitive skills tested by a team of research scientists. From the 1970s through 1980s, Polish film directors were inspired by the socially relevant events of the times and the resulting movement became known as the Cinema of Moral Anxiety. Director Krzysztof Zanussi creates a visually complex, incisive, and compassionate examination of the essence of knowledge and truth in his 1972 film Illumination.  Zanussi intersperses real-life interviews, statistical data, and behavioral studies within the story of a young scientist's personal struggle between reason and passion to reflect a universal truth on the nature of human existence.  Illumination serves as an idiosyncratic, engaging, and insightful fusion of science and art, precision and creativity, intellect and emotion – a reflection of the innate human need for personal balance and the inextinguishable human quest for enlightenment.
October
Twists of Fate/Korowod. Jerzy Stuhr, 2007,112 min.
This gripping film spans the moral attitudes of two generations and their complex entanglements. A former secret police officer under Polish Socialism faces the consequences of his past actions. Meanwhile, Bartek, a student who makes a career from lying and cheating, finds a briefcase and a coat containing a mobile phone on a train. When the phone begins to ring, Bartek doesn't hesitate to answer it, setting off a shocking series of events that changes the characters' lives forever.
November
Everything for Sale/Wszystko Na Sprzedaz. Andrzej Wajda, 1969, 97 min.
One evening in 1967, Wajda discussed with a friend what a wonderful movie could be made on the life of actor Zbigniew Cybulski. That very night, Cybulski died attempting to jump onto a moving train. The loss was extraordinarily painful for Wajda. Together with a group of close collaborators, he embarked on this deeply personal and introspective film about the cast and crew of a work-in-progress that suddenly loses its leading actor. Top stars (including Elzbieta Czyzewska and Daniel Olbrychski) play themselves, and Wajda is played by the prominent actor Andrzej Lapicki. The first of his films to be based on his own original screenplay, Everything for Sale maps the shifting borders of art and life, illusion and reality, grief and creation.
December
The Reverse/Rewers. Borys Lankosz, 2009, 101 min.
In 1952 Warsaw, shy Sabina (Agata Buzek) prefers the world of books to the dating regime her mother (Krystyna Janda) and grandmother (Anna Polony) champion. But after the dashing Bronislaw (Marcin Dorocinski) rescues her from a mugging, she believes she has finally found a suitable mate, thrilling her mother and grandmother. Bronislaw is mysterious about his work, but when it's revealed that he works for the secret police, the women become much less enthusiastic and take extreme measures to end the romance. "Rich with references to Polish culture and cinema history, the genre-juggling feature debut of Borys Lankosz is clever, complex and spiked with a special kind of black humor."
Alissa Simon, http://www.afi.com/silver/new/nowplaying/EUshowcase/reverse.aspx